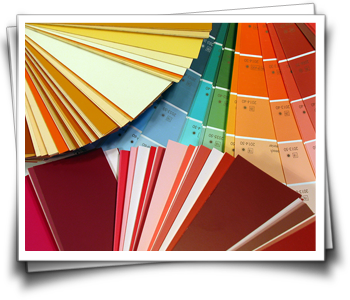 There are three main portions to painting the interior of your structure, and each portion has it's own specialized painting requirements. The first portion is walls and ceilings. The second element of interior painting is doors, trim and cabinets. The third section of interior paint is flooring.
The first portion of an interior paint project is your walls and ceilings. Ceiling paint is usually white and flat although colored ceilings can add depth and contrast. Wall paint can be any of the common three paint textures: flat, semi-gloss and gloss. However, semi- gloss is the most popular for walls and most walls are a neutral color. That said, accent walls in the interior might be painted a vibrant color.
The second portion of interior painting is the doors, trim and cabinets. These are all usually painted with full gloss paint. Although they can be painted any color, these are also usually painted white as well. Usually any items installed in your home that are wood trim are painted. This can include baseboards, window trim and door trim. If you are painting cabinets, this is also usually done similar or the same as the trim work, so it is consistent with the rest of the house.
Another portion in your home that can be painted is your floor. Although, most flooring does not get painted, if you have a concrete floor you can paint it with an epoxy paint to seal out moisture and create an easy cleaning surface.
Tips for Interior Painting
It's important to understand that approximately 80% of painting work is preparation and planning. Therefore, be sure to prepare the area with sanding, caulking, dusting, cleaning, and putty work before any paint is applied. When preparing the painting site, it is important to tape and mask off the areas that you don't want paint on. This adds protection for the rest of your home and gives the painted area a nice and clean finished edge.
It sounds simple enough, but the proper paint needs to be used in the right places, and the correct color and finish on the walls or ceilings.  Although it seems a silly warning, it actually happens quite a bit and brings costly and time-consuming mistakes if done incorrectly. It can be as simple as the right colors in the right rooms, or as complex as using the correct oil based paint or water based paint. Also, products like epoxy paint have to be pre-mixed with a catalyst before being applied.
Once you have all your paint applied, which will take several coats and trips to finish a project, you will have to clean all your tools. This is another step in the process that people seem to forget. Using the best brushes and rollers can be costly expenditures, and it's important to clean them thoroughly right away in the correct manner, to be able to re-use them. Quality brushes are not meant to be disposed.
Choosing a Professional Interior Painter
The actual application of paint is an important skill which is often not given full credit. A good painter has the experience and knowledge to work several times faster than an average painter, and have the finished product be perfect.
A professional painter also has the tools and necessary supplies like drop clothes, ladders, brushes, rollers, paint guns, and all the small supplies you may overlook until you are in the middle of a project. They have the proficiency to know what it will take to start and finish a painting project. Having a licensed professional to coordinate a large painting project will prevent any extra costs or time delays due to mistakes or misordering of materials.
On any large or small construction job the painter is the very last subcontractor, and is present until the very last item on the punch list is checked off. They are responsible to fix all of the dings and small mistakes that didn't get finished or anything that was overlooked in the final quality control checklist. A good painter has the familiarity to make everyone else's work look even better.
Contact Hatter and Sons, Incorporated to find out how we can assist you with all your painting needs. Call Philip Hatter today @ (540) 569-6351 for a consultation.