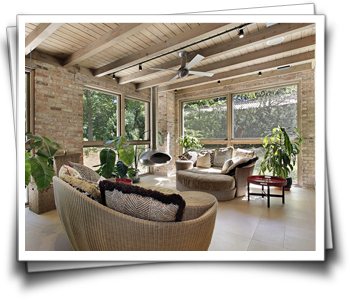 Why Install a Sunroom
A sunroom is a room added along the side or back of your home that usually features large amounts of glass windows. Having a sunroom is a way to experience the beauty of the outside from the comfort of the inside of your home; it is an extension of the space in your home. A sunroom is a great way to add an additional room onto your house.  Adding space will add value to your home and with a sunroom this can be done at a relatively low cost.  This is also a way to add heat into your home during the winter; the sun will help heat the room much like in a greenhouse by filtering through the windows.
Sunrooms are also installed relatively quickly and cost effectively. Although they are sold in kits, sunrooms are no longer just glass panels and frames anymore, they now have blocked off sections with doors and windows as well. They can range from simple rooms to more luxurious extra space.
Tips for Installing a Sunroom
The first step is to determine the location of the sunroom.  It is also important when establishing the location to verify your property lines as you don't want to unknowingly encroach upon your neighbor's property.   When working with a predetermined budget, accurate measurement of the space is important, so ordering materials or a kit for the sunroom is done correctly. Also, before you order your sunroom and have it installed it is important to choose a sunroom that fits your needs. For example: if you are adding living space the sunroom design will be much different then if you want the room to be used as a greenhouse. This will also help finalize the cost.
Sunrooms can be purchased as predesigned kits or as a custom built kit. You can also have a sunroom designed and built specifically for you without a kit. Regardless of the manner you choose, it is necessary to have any necessary permits obtained and building codes followed closely when purchasing materials and planning the structure.
Using a Professional to Install a Sunroom
A licensed contractor will help you establish a budget for your sunroom project as well as work with you to determine the type, size, location, and layout of the sunroom based on the needs of your home and available building space. They also will ensure that all of the proper building codes are followed, necessary permits are obtained and inspections are scheduled. Also, if you want to add electricity or plumbing to the room, a professional can organize and create a plan for the skilled craftsmen to complete in a timely manner to avoid time delays in a cost effective way. Additions such as this can also entail their own plumbing and electrical codes that need to be followed and inspected.
Using a professional gives you the opportunity to have any style sunroom installed at your location. They are not limited to only what you can buy in pre-fabricated kits, but they also can acquire the best prices on all kits, materials and supplies. They can do this while ensuring that the project stays within your budget so you are aware of the expense up front without added surprises.  A professional also has the knowledge, experience, manpower and tools to install your project expediently without mistakes or time delays.
Having a licensed contractor lead your project will give you the peace of mind that the work will be warranted and the contractor will guarantee the integrity of the structure. It is important to choose a contractor that is also licensed and insured for your protection.
It's time to bring the sunshine in your home! If you're considering installing a sunroom, give Hatter and Sons, Incorporated a call.  For the best in for all types of renovations, new home construction, commercial projects and service, call today Philip Hatter @ (540) 569-6351 for a consultation.