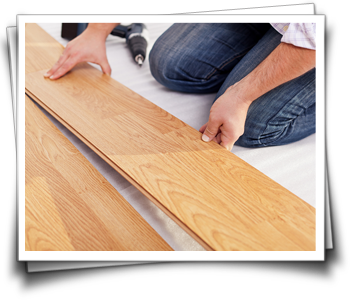 Laminate is a great and flexible flooring option for your home. It is a synthetic flooring product that can be installed anywhere in the home. When installed with the proper moisture barrier underlayment, it is a great choice for basements, and can complement design needs in any room of the home.
One of the most popular motivations for choosing laminate flooring installation is the price. Laminate is one of the most affordable choices on the flooring market today. It is very cost efficient and it needs little or no maintenance. Laminate flooring installed properly will last for many years.
Another reason that laminate flooring is so popular is for the amount of looks possible. You can get laminate in any color or in any pattern. There are laminates that look like wood, stone, tile, or even bamboo. There are also many different types of textures available with laminate flooring. You can choose a smooth floor, a textured or embossed floor, and even a distressed or antique textured floor.
There are different qualities of laminate flooring for different uses. For example, you can choose flooring specifically designed for moderate use areas in your home, or commercial grade laminates for more high traffic areas in a business.
Installing Laminate Flooring
The first step is installing laminate flooring is to have the area accurately measured. The products also need to be determined, ordered and delivered on site. The next step is to clean the sub floor area and to verify it is free of all dirt and debris. Even extremely small amounts of dust or debris can cause bubbles and visual mistakes in the flooring once it is completely installed. Before installing the finished floor, it's important that a moisture barrier is installed. This will prevent water from being drawn up through the subfloor, and causing damage to your floor. It also adds a little cushion to the floor as well.
When installing the laminate floor, a slip joint connection is used, which causes the floor to stay together as a floating floor above the moisture barrier. The laminate is not to be glued or nailed to the subfloor. It also needs to be installed with space in the ends where it meets up with the walls.  This allows for contraction and expansion of the flooring material when it heats up and gets cold. Another reason this type of flooring has such large popularity is for the ease of cleaning and upkeep. It is reasonably priced, holds great quality, and is easy to maintain and clean.
Is Laminate the Right Flooring For You
A professional contractor is the best resource to help you choose the type of laminate for your home. They can also recommend which locations in your home will work best for installing laminate flooring such as open rooms like living rooms, dining rooms, hallways and bedrooms. They can professionally measure, estimate, and order the product for you. This process actually needs to be more precise than it would seem, as the correct measurements also include the space needed for expansion and contraction of the flooring product. With their knowledge and experience, they can help you lower costs by eliminating waste by ordering the correct amount of quality products, in the proper time frame, for the best prices.
The qualified contractor also has the knowledge, experience and tools to install your flooring without unsightly mistakes, bubbles, or any other errors. When done professionally, laminate flooring can be installed quickly. A professional also has the manpower to not only install the flooring expediently, but also with a high level of quality. Using a licensed contractor also gives you the peace of mind of having the work guaranteed. They also carry the right insurance, protecting the security and investment of your home. A skilled contractor will stand behind their work.
For all of your flooring needs contact Hatter and Sons, Incorporated. They offer the best in renovation, new construction and other building projects in the beautiful Blue Ridge Mountains. Call Philip @ (540) 569-6351 for a consultation today.