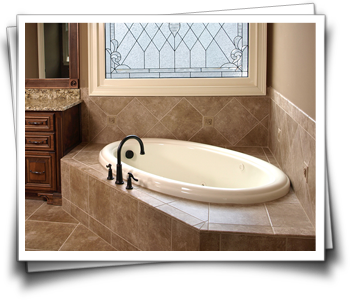 The bathroom is one of the most used rooms in your home and one of the most important from a design perspective. Even small changes can impact the function and look of the space. There are many reasons to take the leap and remodel your bathroom.
One purpose to undertake a remodel is to make it more functional for your personal needs and desires. Since this is a room that is used regularly, it should be set up to your own specifications.  You can finally create the custom bathroom you've always wanted with new fixtures, cabinets, flooring, tub and shower built around your lifestyle.
Another reason it can be beneficial to renovate your bathroom is to update your plumbing fixtures to the most modern and ecologically friendly fixtures. This is not only a sustainable way to protect our environment but also an economically efficient choice.
Probably the most significant motive to updating your bathroom is to increase the value of your home. This is one of the most important rooms in your home and an updated bathroom can not only add value in an appraisal of your home but can also make it a more attractive property to home buyers.
Steps to Remodeling Your Bathroom
The first step to any remodeling process is to decide what you want to change, what plumbing fixtures you would like to replace, or if you want to do a full bathroom remodel. This is also when you would decide on flooring, cabinetry, or any other design and construction changes. A budget also needs to be made based on prices of fixtures, parts, and materials. It is important at this stage, before you purchase anything, to be fully aware of all building codes to make sure you have correct permits and use approved materials. This is especially important if making any electrical or plumbing changes.
If you are having a full remodel done and are designing a completely new bathroom, you will want to start from scratch and demolish the room down to the framed walls and subfloor. If the plumbing allows, you can even move the placement of fixtures at this time. Once you install new fixtures, cabinetry, and any other changes, make sure to test for leaks after every plumbing fixture installation. You will also need to have all of your building inspections done when applicable.
A Professional Renovation of Your Bathroom
A professional contractor is invaluable for every aspect of a renovation project. They will help with the design and planning stage. They will help you create your budget and pick out all materials needed, keeping in mind all of the applicable building codes. They will recommend the best and most modern fixtures. They also have connections for the best prices and will also apply for all of your building permits.
A full bath remodel is a full group effort so it is important to have a contractor to coordinate the project with several different subcontractors. All the workmen need to be managed properly as they all are going to be working in a confined workspace within a stringent timeline. Having a professional at the helm of your project will guarantee it is completed in a timely manner with superior craftsmanship and a high quality of work with no leaks and every fixture working correctly.
A professional contractor will guarantee you the quality and craftsmanship that will increase the value of your property. Conversely poor quality or shoddy workmanship will actually scare potential buyers away and devalue your property. Therefore, this is the type of renovation project that requires a licensed and experienced contractor.
Your home is an investment, and the added investment of a bathroom remodel usually has a high return value. Actually, you get the best return for your investment by remodeling bathrooms and kitchens. These are such important rooms to homebuyers that a bathroom's appearance and function can be the difference of being able to sell the property or not. Protect your investment by using a licensed contractor who is insured and guarantees their work.
If you're interested in remodeling a bathroom in your home, Hatter and Sons, Incorporated can work with you to design and produce the perfect space for your needs. For the best in all types of renovations, new home building and service, call Philip @ (540) 569-6351 for a consultation.