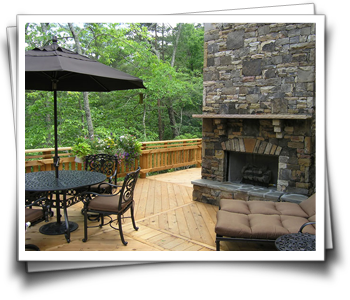 Building a deck or a porch onto your home can add value to your home by increasing the livable space, appearance, and functionality to your home. A deck is an enjoyable addition that can increase the comfort and pleasure of your home. A porch can bring an improved look to the overall appearance of your home.
Adding a deck to your property gives you a great place for cookouts, space for your children to play, and is a fun addition to the home. It is a great new area for entertaining guests and can expand the amount of guests you can bring to your home. Building a deck is like adding an outdoor game room.
Attaching a porch to your home adds functional space such as storage while creating an entryway space that can provide added comfort. A covered porch for example, can be like adding another outdoor "room", which adds to the appearance of your home and can give you a more relaxing entry space.
Tips for Installing Decks and Porches
During the planning stages you need to determine if you are going to attach your porch or deck to the side of your house or be freestanding. Next, you will need to determine if the deck or porch will be covered with an extension from the roofline, have a separate roof system, or remain uncovered.  Additionally, during the planning stages, make sure you own the land you will be building on so as to not unknowingly cross property lines.
The next step is determining the design, based on your needs and desires for the space. Do you plan to use it for entertaining? How many people will be using it? Do you want to have privacy, or be readily visible?  Once this is decided, you'll need to select the material you want to use for the deck or porch while being mindful of the maintenance plan needed for certain materials.
When installing the deck or porch, the area will need to be laid out so you can install footings and posts in the correct location. The floor joists will also need to be installed as well as the bands around the edges or end joist. Most building codes require that the ends of the joists be attached using a mechanical hanger with the proper coating for weatherproofing. Decking material is installed on top of the joists and should be attached using screws, not nails. Railings, posts, and corners are areas where you can add to the design element and have a large impact. Stairs and landings can also be built and installed if needed.
If you are adding a roof it will need to be framed, roof rafters added, and roof sheathing installed, and roofed with all applicable roof materials. Other elements can be included such as: fire pits, BBQ grills, gas display firepots, log fire pits, large BBQ with direct gas lines, hot tub, gazebos built, built in benches and seating, build in storage space inside benches or cabinets. The options are almost endless and can be customized to fit within your families' needs and budget.
Having Your Decks or Porches Professionally Installed
A professional contractor can work with you to make a plan for your project. They can help you determine your budget, design a deck or porch according to your customized needs and desires, as well as get you the best prices on materials. The contractor will help with the full planning process and ensure you have proper measurements for installing every aspect of a deck or porch. This is even more important if you choose to install a roof atop of the deck or porch as the roof structure will have to be properly constructed and weatherproofed.
A licensed contractor will ensure you are building on your own property. They are trained and have the experience to follow building codes and can acquire any needed permits. A deck is a serious structure as there will be a lot of people using and walking on the space. It needs to be constructed safely with the proper foundation, framing and materials for your area.  Use a contractor that guarantees their work and is also licensed and insured for your protection.
A professional contractor has the knowledge and tools to make sure your deck is installed correctly, quickly and cost effectively. They also have the manpower, tools, and experience to give you the best quality installation to add value to your home while protecting your investment.
Here in Albemarle, Augusta, and Nelson Counties, for the best in all types of renovations, new home building and experience, call Philip Hatter today @ (540) 569-6351 for a consultation.