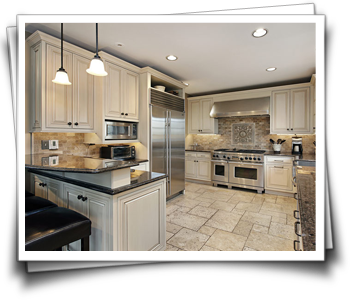 Updating your cabinets and countertops are an immediate way to improve the quality and look of a room. Adding new cabinets and countertops can update the kitchen or bathroom in your home. It is a way to modernize your kitchen, prepare for upgraded appliances, and bring a completely new look to your bathroom or kitchen. It also adds to the value of your home. Updating your kitchen or bathroom using new cabinets and countertops is one of the fastest and least expensive ways to make a marked difference in the assessment of your home value.
Another reason to update your space in this way is to completely change the way you can use the kitchen or bathroom, based upon the new placement of the new cabinets and countertops. You can customize the space to better serve your needs by updating the location, materials, and hardware of your cabinets and countertops.
The Renovating Process – Cabinets and Countertops
The first step is to create a budget and plan the kitchen or bathroom renovation. It is important to have accurate measurements and accurate estimates for products to be ordered, delivered, and obtain all needed tools at the building site before starting anything to minimize the time you cannot use the space. If you are going to install new, improved appliances you will need proper measurements of the new appliances so the building plans can account for any new spacing or placement before installation begins.
The next step in the cabinet and/or countertop renovation is to clean out the kitchen or bathroom, and to relocate any items you will need to use during the remodel process. After you've cleaned out the space you are renovating, you can demolish and remove the cabinets and countertops.
When the space is properly cleaned out and demolished you can now begin installation. The installation process for this area will include some carpentry, electrical, and plumbing work. Usually the cabinets will be packaged as boxes. These will be installed together according to the building plan before installing hinges, doors and knobs.
The upper boxes should be installed first, and then the bottom boxes, making sure they line up properly. You can also use filler strips on the sides and tops to give the cabinets a clean finished look.  At that point you can now install the laminate, granite, quartz, or tile as your counter top and back splashes. Putting all the knobs on the cabinetry doors, cleaning them all out, and making sure everything works well completes the building process.
Why Use a Professional for Your Renovation?
The process of replacing your cabinets with a professional contractor can save time and is cost effective.  They can make sure that all your products and supplies are ordered and you have everything you need to take the least amount of time. The professional also ensures that measurements for plans are done correctly. Also, the demolition process is very safe and swift with a professional, as they know what they are doing so they are less likely than a novice to damage plumbing, electric or any other construction items.
Installing new cabinets and countertops adds value to your property and is a great way to improve your home as well as your comfort of living. Any investment into having a new kitchen or bathroom installed is a positive improvement that adds value to your home, which can be recouped when sold or refinanced. Having a professional complete the project on time and under budget is what determines how profitable your investment will be. There are many different details during the finishing process that need to be done on any project but even more so in a kitchen or bathroom. It is important to have a contractor that is detail oriented and has a good relationship with their suppliers to make sure that each detail is looked after and resolved expediently.
If you are considering replacing your cabinets or countertops, give us a call today. We carry several lines of semi-custom cabinetry, have a designer on staff, and can help you make the best choices in appliance, countertops, and accessories. Call Philip a call @ (540) 569-6351.