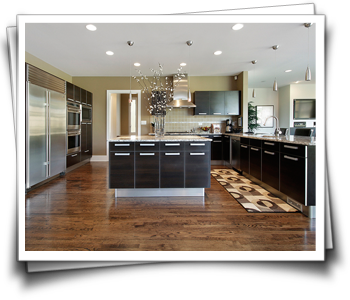 Choosing Flooring
The flooring in a home or business is one of the most important elements to the overall feel of the structure. The type of flooring you have will play a large part in the comfort of your home, as it is the portion you have the most physical contact with on a daily basis. The type of flooring, colors, and textures can affect the overall aesthetics of your home or business. It is also important to choose the best quality flooring that you can afford within your budget. Higher quality flooring will earn its value by lasting longer with less upkeep.
There are many different choices of flooring with a large range in budget.   The cost of the different types of flooring will often determine the types of flooring you can install throughout your home. Choices can range from carpeting, hardwoods, linoleum, tile, and stone. Even within those main types of flooring there are many different sub groups of flooring types like assorted hardwoods, carpets, ceramic or porcelain tiles.
It is important to factor in the look and budget of your structure before choosing flooring as well as the comfort. You can choose to be either warm and cozy with carpet or nice and cool with stone or tile. Depending on the level of comfort you require you can also put temperature control directly into your flooring.
Installing Flooring
The first step in installing flooring is the planning phase. What is your budget? What types of flooring do you want to put in each area of your structure? For example: do you want tile for entry and bathrooms, carpet in the bedrooms, linoleum in the kitchen and laundry, or hardwood in the hallways? Then, you need to pick the specific products such as what type of tile you want, as well as what colors will look best in your home. Perhaps you hate cold floors in your bathroom; maybe you should consider radiant heat flooring.
Perhaps you want something that is more higher end like marble, but your budget will not allow it to be installed in your whole home. You can put the marble in the most visible areas, and in other areas use different flooring like hardwood or carpet. There are creative ways to stretch your budget while having a look in your home you really like.
After you have decided what products to use, it is important to get accurate measurements of each room and order all of the products, accounting for breakage or waste. This is actually a complicated step, as measuring for any type of flooring has many different variables such as direction, size of pieces, edging and other factors. Also, after ordering some products, it can take quite a while to arrive, so that is something you need to be aware of while planning any installation. You do not want to run out of materials during the installation, and then have to wait up to several weeks for more products.
Why Use a Professional to Install Your Flooring?
A professional installer can help you determine the types of flooring that work the best for your budget, home needs, design specifications, and desired comfort level. A professional also has the knowledge and experience to help you decide what products are best to use in different rooms in your home for the best function. The flooring you have installed in your entryway may not be the same flooring you will want in your bedroom. For example: they can help you determine the best types of carpets or hardwood to use if you have pets, a large family, or are adding flooring to high traffic areas.
The professional has the experience to order the right amount of materials, tools, and the manpower to make your project time and cost efficient. They will acquire the best deal on materials and labor. They will also be able to install more complicated flooring products such as floor heaters, or more complex tile patterns in bathrooms and kitchens. A licensed contractor is insured and will guarantee their work.
The best choice in Albemarle, Augusta, and Nelson counties for your residential or commercial flooring project is Hatter and Sons, Incorporated. For the best in for all types of renovations, new home construction, commercial projects and service, call Philip Hatter today @ (540) 569-6351 for a consultation.