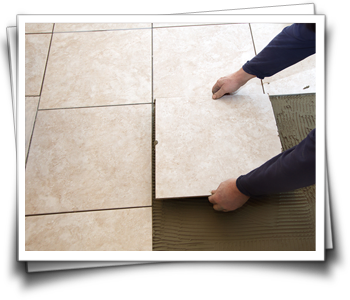 Ceramic, Porcelain and Stone Flooring – Picking the Right Flooring For You
Ceramic tile, porcelain tile, and stone are all very popular flooring materials for many different rooms in your home. These are mainly used in entryways, kitchens, and bathrooms or even outside the home. Many people like the surface texture and look of tile or stone.
When choosing which product you are going to use, there is a large range of cost differences in materials, labor and upkeep.  For example: Stone is the most expensive to install. It has a higher cost in materials, longer installation time, and regular upkeep. The stylistic look of stone for many people will outweigh the added costs. Also, the value of your home will grow with better looking and highly valued materials.
Ceramic has been on the lower end of the cost spectrum because as a rule, it has looked to be of lesser quality than stone or porcelain. However, there are new advances being made to ceramic materials to make them look and feel more like a stone product.
Porcelain tiles, like ceramic, come in a wide variety of colors and styles. They are, however, stronger and last longer on average than ceramic tiles.
Installing Ceramic, Porcelain and Stone Flooring
Once you have chosen the type of flooring you are going to install, have the area measured and product ordered, accounting for any breakage and waste. Once you have received materials and are ready to install the tile, the subfloor will need to be prepared before the flooring product can be installed. First, it will need to be cleaned of even trace amounts of dirt and debris. It is best to install tile on top of a concrete backer-board or a suitable substrate. The subfloor also needs to be free of cracks, and be as level as possible. An uneven floor with even just the slightest raise or dip can cause unsightly mistakes.
After the subfloor is prepped, you will need to make sure you have all of the proper materials at the project site to finish the entire job. This includes floor tile, thinset, grout, and all the tools needed to accomplish the project. There are many different types of colored and even translucent grouts you can now use that can change the overall look of the design. Make sure you have chosen all your materials with the full flooring and room design in mind.
No matter the flooring product you choose, what people will notice is the finished product. You will want to use the proper grout type and color that goes well with the tile. It is highly recommended that all tile floors and grout lines have a sealer and water proofer applied. It will keep your grout and tile from becoming stained in the future.
Professional Ceramic, Porcelain and Stone Flooring Installation
A professional installer will be able to maximize the most out of your budget by helping you choose the best products to install, while offering you the manpower and experience to have it done quickly and accurately.  They can also advise you on the areas in your home to install the more expensive products and the areas that you can use more economical products. The professional can also get the best prices on whichever flooring product you choose.
The professional will also give you the highest quality finished product. They have the expertise to install intricate patterns or designs. They also have the tools, knowledge and experience, and know what areas of the project can be the most challenging and prepare for them accordingly.
They can give you added touches like rounding the corners on stonework, or adding bullnose edging for shower entries. They can also install soap dishes, benches, and other more complex installations in your baths and showers.
Most importantly, choosing a professional installation is one way to safeguard the value of your investment. A licensed professional will stand behind their work with warranties and guarantees. They are also insured and bonded for your protection
For all your residential or commercial flooring projects, call Hatter and Sons, Incorporated. For the best in for all types of renovations, new home construction, commercial projects and service, contact Philip Hatter today @ (540) 569-6351 for a consultation.