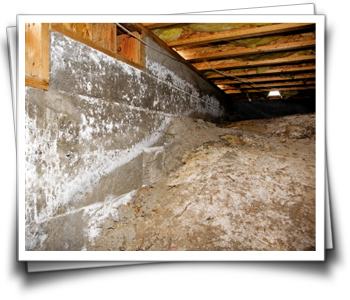 Crawl space encapsulation can be a solution for your home if you have a mold or dirt smell permeating from under your home. Crawl space encapsulation is protecting your crawl space from vapors, moisture, and allergens.  This is completed by using a barrier which covers the ground, columns/post and walls, spray foam which covers the foundation walls and insulates the crawl space from the outside, a dehumidifier to remove moisture, and a heater to keep plumbing pipes from freezing during the winter. With encapsulation, your crawl space will be safeguarded from rot caused by ground moisture condensing on the floor system, as well as pestilence and mold.
Specifically, rot is decomposing wood, which can be found anywhere that wood comes in contact with moisture, and is commonly found in the crawl space. It is one of the most damaging invaders for your structure as it deteriorates your wood structure, and if left unchecked, can spread throughout the wood structure of your home. The crawl space under your home is an area that is exposed to the elements and it is also where the post and framing that hold up your home are located. It is imperative that this area is well protected from moisture.
Tips for Encapsulating Your Crawl Space
It is first important to inspect your crawl space for any debris left over from the time your home was built. It is also important to look for moisture build up that can lead to mold and rot, and to identify high or low spots that water can collect in.
After conducting an initial inspection, it is integral for the encapsulation project to clean out old construction debris, remove falling insulation, and level the ground in a crawl space to create a clean and stable environment for proper encapsulation. If areas with mold or rot are found, you will need these areas repaired and cleaned prior to encapsulation. If your crawl space has standing water, you'll need to install a drain-layer and also a sump pump to remove the water from inside your crawl space. After this is completed, a thick moisture barrier is installed. All of the joints of the moisture barrier need to be well sealed with special industrial strength tape as a proper seal, which is key to a successful encapsulation. The barrier also needs to be placed running up the walls while staying accurately sealed with the floor. Lastly, a 2" spray foam is applied to the exterior foundation walls insulating the crawl space from the outside environment. When properly encapsulated, a crawl space will be sealed against any odors, moisture, rot, and pestilence.
Using a Professional to Encapsulate Your Crawl Space
A professional contractor will be able to inspect your crawl space accurately and recommend the best manner to install the encapsulation. Most importantly, a licensed contractor is able to recognize any area that needs repairs or replacement due to damage from pestilence, rot, or mold which can deteriorate your structure.  It is invaluable to have this area inspected by a professional who is experienced with the training and knowledge to recognize rot or other structural damaging issues.  The professional can also repair damaged or hanging insulation, and even add improved insulation if needed to improve the energy efficiency of your property while in your crawl space. If your structure needs repair or replacement, the contractor will be able to determine a solution with you.
Crawl space encapsulation is not an easy or fun job. It usually takes more than one person to level the floor under your home, remove debris, and place and seal the moisture barrier. Crawl spaces are cold in the winter and damp and humid in the summer. It is well worth it to choose someone with the knowledge, experience, manpower and equipment to encapsulate the crawl space for you expediently, in a cost effective manner.  Also, a professional will obtain the best materials at the best prices. A licensed contractor carries the proper insurance, guarantees and stands behind their work.
Although the area under your home is not a livable space that anyone spends time in, it is a valuable area, and is one of the main points of entry into your home for moisture, pestilence, and the outside environment. It is therefore necessary to seal that area to protect the veracity of your home's structure.
Here in Albemarle, Augusta, and Nelson counties,  the best choice for crawl space encapsulation is Hatter and Sons, Incorporated. For the best in for all types of renovations, new home construction, commercial projects and service, call Philip Hatter today @ (540) 569-6351 for a consultation.