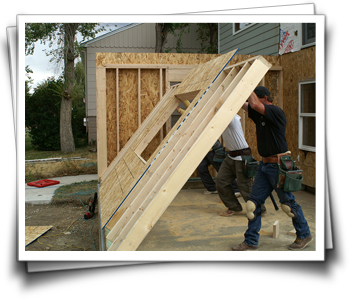 Reasons to Add a Room to Your Property
Adding a room to your home can be a solution to a personal need for more space. It can be a way of adding a guest room, office, or nursery to your property as the needs of your family change. It can also be a way of improving the value and investment of your home, as it has been shown that homes with more bedrooms can increase a home's value. Perhaps you want to add comfort and luxury to your home by creating a new custom master bedroom with a bathroom or maybe you are adding on a rental unit.
Regardless of the reason for adding a new room to your home the complexity of the project can range from the simple process of adding a room in your basement or attic, which might just entail adding a few walls, electrical outlets, a door, some flooring and some paint. However, for larger additions you may need to add an entire new structure onto the side of your home. You will need to pour a new slab or foundation, install framing, and add a new roofline.
Tips for Adding a Room
The first step is to evaluate and plan for the room addition. It is important that you qualify your commitment level along with your budget. It is also necessary to decide where you are going to add the room and determine if your property or existing structure can handle the addition structurally.
If you are adding a room to the side of your home, the current structure and roofline will determine how easy or difficult the addition will be. It is also important to evaluate your property to make sure you will not be encroaching upon your neighbor's property line.
It is also necessary to assess the foundation and determine if your foundation will be sufficient structurally or will need additional footings. If you are adding an additional room, it is important that the correct permits are acquired, building codes are followed and inspections are completed. Most importantly, a budget must be set and a floor plan drawn out no matter how simple or complex your addition is.
Reasons to Use a Professional Contractor
A professional contractor will help you plan your budget, and will help you determine what is feasible within that budget, as well as the confines of your structure and building codes.  They will also help you create the building plans, and pick out and get the best prices for any materials or supplies you may need. The contractor also acquires all of your necessary permits and schedules all of the applicable inspections.
A building project such as a room addition can require multiple craftsmen working in a small location at the same time, and are dependent on each other to finish the project expediently. If you are doing a full room addition on the side of your home, for example, you may need a foundation placed before the carpenter can frame the walls and add the roof. Then an electrician and plumber may need to access the walls while they are still open. If you need air ducts added, or any special wiring,  that will need to be completed before insulation is added, walls are closed, drywall added and walls are painted.
These are just a few examples of the types of craftsmen that may need to work on your project. The contractor is able to coordinate all of the phases of the addition to ensure there are no time delays. They also have the tools, knowledge, experience and manpower to get started correctly and finish excellently, with the quality room you requested. They will also ensure that all of your inspections are scheduled and passed before moving on to the next phase.
A professional contractor is also licensed and insured for the protection of what may be the largest investment of your life- your home. Here in Albemarle, Augusta, and Nelson Counties, Virginia the best choice to help you add a room to your home is Hatter and Sons, Incorporated.  Give Philip Hatter a call today @ (540) 569-6351 for a consultation.