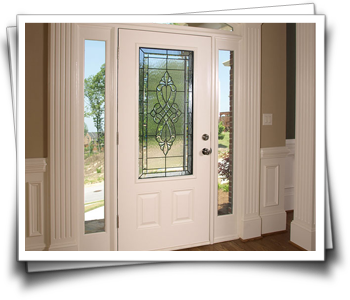 Why Replace Your Entry Door
There are many reasons to replace your entry door. It may be replaced to be more energy efficient, to be more aesthetically pleasing, or for the security of your home.
Adding energy efficiency is one of the most important benefits to installing a new entry door. One of the principal places you can lose heating or cooling is through the front door. There are many doors today that can upgrade your energy efficiency. Also, a new door can be important for correct ventilation, as different types of screen doors can be installed that can lower your need for air conditioning in the summer months.
Another reason is of course the visual aesthetics of your home. Not only is the front door a functional piece of any structure, but the entry way is a decorative element that sets the tone for the rest of the estate. It is one of the first elements of your home that anyone will see, so it is one of the most important visible components to your home design. Your entry door is quite literally the entry way to your home and as such, needs to be secure and function properly.
The Steps to Replacing Your Entry Door
The first step to replacing your entry door is choosing the material that the door will be fabricated from, and also its design. You'll also need to know the correct measurements and specifications (such as insuring it swings in the proper direction).  You also need to order a door that will fit your criteria for security, functionality, aesthetics and energy efficiency.  Let's look at the different material options for entry doors:
Wood: The traditional choice for an entry door. Nothing matches the true beauty of natural wood or the warm feel and heft of a well-made wood door. Entry doors can be fabricated using local wood species or exotic wood species from over-seas. Choosing a wooden entry door opens up countless possibilities with detailed carvings, glass options, trim profiles, and stained finishes. Even the more 'modern' choices of steel and fiberglass try vainly to mimic the natural qualities of wood.  However, wood does have its disadvantages. Wooden doors have a tendency to swell and shrink according to moisture and humidity levels, causing irregularities in the operation of the door. Also, wooden doors require regular maintenance as they do not stand up well to the elements. If your door is exposed to excessive sunlight or isn't protected by a porch or extended overhang, you may have to refinish your wooden door every one to three years. Care for your wooden door properly, and it can last a lifetime; neglect it and it could only last a couple years. Because maintenance by the homeowner determines the life of a wooden door, most manufacturers limit their warranty to one to three years.
Steel: If budget constraints and durability are what's important in choosing an entry door, then steel is your choice. As you would imagine, steel doors are extremely tough and are very safe when married to a good lock and deadbolt. Also, most steel doors have a good insulation value as the core is filled with spray foam which prevents the steel from radiating the outside temperature into the inside of the house. Lastly, if you decide to purchase a steel entry door, request that it be mounted on a composite frame which will keep the jamb from rotting years down the road.
Fiberglass: The newcomer to entry doors, fiberglass has become more popular with homeowners over the past few years. Fiberglass doors, like steel doors, are generally filled with spray foam to create an energy efficient unit. The outside shell of the door is constructed using sheet fiberglass and is applied over either a composite, laminated veneer lumber, or steel frame to prevent twisting and warping. These doors are available in countless configurations with any number of options. Unlike steel doors, a fiberglass door can be ordered to have a stained finish to replicate the look of a natural wood door.  Fiberglass doors are generally less expensive than wood doors, but more so than steel.
The next step is to prepare the area for installation. The area needs to be properly prepared by having all of the supplies ordered, delivered, and ready to be installed. If the door cannot be installed all in one day, you will have an insecure area with a hole exposed to the outside overnight. Also, if you are installing a new door that is larger than the previous door, you will need to make sure the existing door opening and framing is sufficient for the new door. If not, that area will need to be reframed. The framing needs to be level and plumb to ease the installation process and ensure the door shuts properly.  Also, if the opening is in a weight bearing wall, the header will have to be sufficiently sized to carry the load above it.
One of the last steps is to install the front door hardware and weather stripping. Surprisingly, doorknobs can have intricate installation instructions. It is also important to make sure they fit in the door you've selected, and that they work properly for security and have the desired decorative appearance. Also, if you have an alarm system or security system, the proper sensors will need to be reinstalled when installing your new entry door.
Why Use A Professional Contractor for Entry Door Installation
Your professional contractor can help make sure you get the correct door for your entrance at the very best price. A contractor can also work with you to determine what doors will work with the existing frame opening that you have, as well as what door will match the architecture of your home, meet your security needs, while being as energy efficient as possible.
Using a licensed contractor brings many benefits to the installation process. The contractor will install your door correctly in the shortest amount of time, which is key for the security and comfort of your home. They already have the proper tools, knowledge and experience to install your door correctly. Entryway doors are also very heavy and usually require more than one person to lift and move into place for complete installation. The contractor has a team of workmen to help with the installation process. Most importantly, the contractor can ensure the existing framing or new framing is structurally sound for the new entry door.  This ensures you don't have future problems with the door falling out of adjustment, shifting, settling or swelling.  If you don't know what you are doing, final adjustments to your entry door such as making sure it shuts properly, and is secure and energy efficient, can take you hours. Lastly, an experienced contractor will insure that the new door is properly flashed (weatherproofed) against the weather to prevent water from entering the floor system and walls of your home. Using a professional contractor is the most secure, time, and cost effective solution.
The professional contractor will guarantee their work and give you the piece of mind of protecting your investment. They are licensed and insured for your protection
In Albemarle, Augusta, and Nelson counties, there is one name you can trust to give you the best entryway door for your home, business or property.  Contact Hatter and Sons, Incorporated today. For the best in all types of renovations, new home building and service call Philip @ (540) 569-6351 today for a consultation.