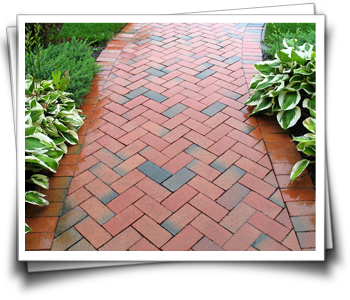 Adding a patio or walkway to the exterior of your home can add to the overall visual aesthetics of the home, add curb appeal, and define landscape designs. A walkway through your front yard can be a way of making a design statement that leads up to your front door. These are usually made with exterior flat stonework done with brick, natural stones, or manufactured stepping-stones.
Both inside and outside your home, natural stone can be installed as a flagstone for flooring, as a walkway, or stepping-stones for the outside. Stone walkways are also used to tie together exterior walls or retaining walls with the same material of stone to give an area a more polished look.
Tips for Installing Floors And Walkways
You will first need to determine where you want to put your stone walkway, brick breezeway, or stone flooring. You will also need to determine your budget, and then choose the best material for the area that falls within your budget.
It is also important to determine what types of setting materials you will use. For example, setting stone in mortar is more expensive than laying brick in sand. Sometimes mortar is used to hold the stones together, but sand can also be used to fill the joints and create a compression fit.
It is also vital to verify that the area the stone is being laid is prepared and able to hold the weight of the stone flooring. This is important, as full stone floors can be heavy and require a solid structure underneath that can hold the weight. Also, the area you are installing the stone, either as a walkway or a floor, needs to be level and clean.
Having Your Floors And Walkways Installed Professionally
Although installing walkways as a DIY project is feasible, it is important to remember that what looks relatively simple may be more complex and frustrating than it appears. This is especially true when it comes to projects that use expensive materials such as stone. A professional craftsman has the experience and knowledge to get the best products at the best price, and order the correct amount so there is no waste or shortages. They also have the tools and knowledge to give you a level walkway, within your budget, that will add to the beauty of your home. They are also able to install expediently without time lags or mistakes.
If you decide to have a stone floor, entry way fireplace, shower, or any other interior stonework done in your home, it is imperative to have a skilled craftsman lead the project for you. Not only does this require experience, knowledge, and training, it is also quite labor intensive. Interior stone products are very valuable, so it is necessary to make sure that the product is ordered correctly to avoid waste or shortages. Also, it is important that it is installed correctly without costly mistakes. A professional craftsman will also be able to verify that the area can handle the extra weight of the stone, and help you pick the best stones for the rooms or areas of installation.
Adding stone or brick walkways and floors will add value to your property as well as functionality. Your house may be one of the most valuable investments you make, so it is important that you choose the best contractors and craftsmen to protect that investment. When choosing a skilled craftsman it is essential to pick someone that is experienced, licensed, bonded and insured for your home's protection and quality of work. A good craftsman will have references and will guarantee their work.
Contact Hatter and Sons, Incorporated today for a consultation about your stone patio or walkway project. Call Philip Hatter @ (540) 569-6351 for a consultation.