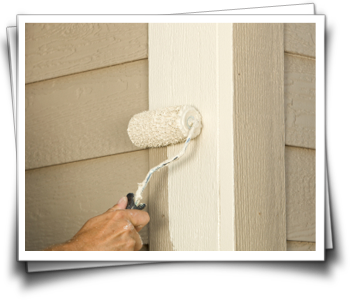 Paint is the most common way to complete the exterior finish of your home. It not only creates a waterproofing barrier from the elements, but also with the right color scheme you can add value to make your home look more attractive and appealing. Paint is also one of the easiest ways to give your home an updated and more modern look without extensive construction or renovation.
Paint is useful beyond just creating a beautiful look, it can be used to seal water out. Paint protects your structure from humid air or the beating rays of the sun. Paint is the layer that protects your home from the outside elements and that barrier is reinforced or renewed when reapplied.
Stain is also important to help your shake shingles or wood siding retain its waterproofing cover for the structure and to also keep it from deteriorating or rotting away. Well-applied stain also improves the look and appearance of your shingles or wood siding. Decks, patios and fences also need to be regularly stained for maintained beauty and structure integrity.
 Tips for Exterior Painting
Preparation is the most important step of painting the exterior of you home. Before you ever dip your brush in paint, the area needs to be fully prepared and cleaned. Gaps need to be caulked and spots properly filled.  Also, rough wood needs to be sanded and old peeling paint needs to be scraped or sanded off to prepare for a fresh coat of paint. A clean and prepared surface is key to an excellent and polished paint project.
Picking the color itself is essential. The right color scheme for your home will compliment the landscaping and architecture of your property while taking into account your own personal tastes. For the resale value of you home, it can be beneficial to use more muted tones, as loud wild colors are not as popular with the majority of homebuyers.
Although an excellent exterior paint job can add value to your home, if the paint job is shoddy or has visible mistakes it can actually lower the assessed value. Therefore, it is important to make sure whoever is painting your home is experienced, competent, and knows how to paint with a superior quality.
Staining wood is an art form unto itself. Similarly to paint, the surface first needs to be prepared and cleaned prior to staining.  All of the cracks and gaps need to be sealed, spots sanded, and old sealer scraped off. A steady and uniform application is very important when applying stain.
Having Your Exterior Professionally Painted
Painting the outside of your home can be a scary and dangerous endeavor if you don't have the experience and proper equipment for the job. Most privately owned ladders cannot safely reach the soffit at the peak of the roof, nor do most people have the training and proper safety equipment to reach their second story or roof peak without injury. For safety alone, it is worth hiring a professional with proper equipment and training to complete the job correctly and safely.
A professional painter can determine the correct paint or stain to use for any situation. This is extremely important. If you use the wrong product on the wrong area or surface you may create more work for yourself, time delays, and costly product waste. It is the cost efficient solution to use a professional that has the wisdom and understanding to use the right product correctly the first time. They also have the correct tools and materials to give your home a superior preparation necessary for a quality paint job.
The professional also guarantees their work. As experts, they can give you a high quality of service and a polished finished appearance for your structure. The professional is also licensed and insured for the protection of you and your home.
The best choice in Albemarle, Augusta, and Nelson Counties for your residential or commercial exterior painting project is Hatter and Sons, Incorporated. For the best in all types of renovations, new home construction, commercial projects and service, call Philip Hatter @ (540) 569-6351 today, for a consultation.