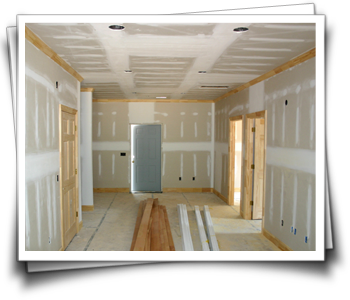 Drywall or sheet rock is a flat sheet made of gypsum, mined from the ground and made into boards. It is then screwed onto your framed walls, taped and mudded with plaster. This will be the starting point for your finished, painted walls. Not only is it aesthetically pleasing by giving a nice finish to the inside of a structure, the drywall also provides insulation and a sound dampening element as well as providing a fire block.
There are many types of drywall or sheet rock. It can vary in size, thickness, length and width. There is also specific drywall or sheet rock with a special purpose. For example, green board is water resistant and type X is fire resistant. Building codes will require different kinds in certain areas.
How Do You Install Sheet Rock and Drywall
First you need to determine what drywall to use. If you are doing a repair job you will want to match to the exact same drywall with the same specifications. Not only do the sizes need to match up, like 1/2″ or 3/4″, you will also need to make sure that it is the correct type, like green board or type x drywall. Most importantly, if you are installing new drywall you need to be aware of the building codes and use the correct drywall according to those codes.
There are two main types of drywall tradesmen, drywall hangers and drywall finishers. Hanging drywall is a more labor-intensive trade. You install by attaching drywall with glue, screws and nails to the walls and ceiling. You then tape the joints and cover the screw holes. However, drywall finishing is a highly intensive skill that is not quickly learned and is hard to completely master.
Drywall can be installed for many different aesthetic purposes. It can be installed around a curved wall and can have many different types of finish textures, from a smooth finish to a stucco look. Proper taping and finishing of drywall is very important because it is the top fire blocker and preventer designed into the structure.
Why Use A Professional to Install Drywall or Sheetrock
A professional contractor will determine what is the type and exact amount of drywall needed based on building plans and codes. This is important to make sure there is no waste or time lags due to unnecessary ordering, delivering, and returning. The contractor will also ensure that there is no lag times associated with other craftsmen needed for your project that could delay the drywall installation. Both hanging and finishing drywall is a very hard, physical, and labor-intensive job that takes time to install. There are also time requirements with how fast the finishing can be done due to sheetrock mud drying times. The time of the year can be a big factor on how long it takes to finish the drywall portion of a project. A contractor can take all of this information into consideration and plan accordingly.
A professional has the manpower, experience, and knowledge gained from years of drywall installation. They can install and finish the drywall at a much faster rate and higher quality than a novice. Everyone that enters your home will see the finished product. It can have a positive effect on the value of your home with a high quality job done by a professional.
A contractor will also give you the exact finish and texture you want on your drywall to match your visual and aesthetic expectations you have for your home. The contractor will also ensure that all of the building codes are followed and all applicable inspections are passed. Specifically, for commercial projects the fire marshal must inspect and pass the space before you can get the certification of occupancy. If the wrong drywall is used for the building code requirements, you would need to pull it out and start over, adding unnecessary time and costs to the project. Issues like these are avoided when using a professional.
Here in Albemarle, Augusta, and Nelson counties, the best choice to install and finish your drywall is Hatter and Sons, Incorporated. For the best in all types of renovations, new home building and service, call Philip Hatter today @ (540) 569-6351 for a consultation.