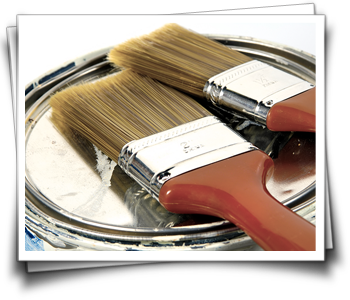 Painting the interior or exterior of your home can be the easiest way to change the look of a room. You can add quality and dimension to an otherwise boring space with a variety of colors, textures and finishes. On the outside of your house, exterior paint can add to the curb appeal of your home, while transforming the look of your house. More importantly, paint that is properly applied is the first line of defense for your home's exterior finish, and can preserve the beauty of your home for many years. If the exterior of your home is starting to show its age, painting can be a cost effective choice, as it is far less expensive than installing new siding on the exterior of your home.
Painting Tips
The first step when taking on a painting project is to determine what you will paint and how you want to paint the area. For example, you will need to determine the area you are covering and choose the right paints for either interior or exterior applications. Also, the type of material that you are covering is an important element as there are different painting and priming choices and procedures for wood, metal, or plastic. Additionally, there is the traditional choice between Latex vs. Oil based paints, and you should be well informed as to the advantages and disadvantages of using these different products.  On the exterior of the house, this can be extremely important as paint adds a finish layer to the walls so that they can withstand the elements of Mother Nature; it's important to choose a paint that offers the most weather resistant qualities.  When the interior is painted it completes the finished product but also seals off the drywall and any wood trim or doors. When choosing paint, look at online reviews, reports from consumer reports, and how much it is meant to cover per gallon. Obviously, the paint you choose needs to be one that seals well and is easy to clean.
Paint is what gives your house its color pallet. You can choose any color you can think of and it can be custom made. There are also many different options for finish and texture. You can choose between flat, semi-gloss, gloss, or satin paints that will give a different look when dry for each type. You can even use chalkboard paint (they can use the wall like a chalk-board) in parts of your child's rooms for function and fun.
Painting is the easy part! Once you decide to paint your house, there is a lot of prep work that must be done before you can put the first drop of paint on the wall. Also, many materials will be needed such as primer, caulking, and painter's putty.  Before you apply any paint, you need to prepare whatever material you are painting.  The surface must be clean and free of any foreign substance which may prevent the paint from adhering properly. Also, gaps, cracks and holes cannot be left open or exposed to the environment or critters like birds, mice and bugs may gain access. On the interior of the house, it takes a steady hand to produce a professional looking job. Keep your lines between walls and ceilings, and around windows and doors clean and crisp. Also, on interior walls, you should plan on applying two coats to keep the paint from looking blotchy (this may not be true if you're painting the wall the same color as before.)
Using a Professional
Using a professional painting contractor takes the stress out of painting your home, but finding the right one is an important decision that requires careful consideration.  The best option for making sure you get everything right the first time with no waste, time delays, or visible mistakes is to choose a well recommended professional.  Before you decide to hire the least expensive painter you can find, or do-it-yourself, here are important points to consider:
Safety: Painting can be hazardous work, whether it's working on a ladder or dealing with solvents and dust. Hiring a professional contractor means you don't have to worry about these problems.
Health: If your home or business was built before 1978, it may have been painted with lead-based paint, which can cause serious health effects when it is scraped or sanded in preparation for repainting. A professional contractor will take appropriate steps to protect you and your family.
Preparation and Painting: On a painting job, the 'Painting' is the easy part of the process. The difficult part is getting the surface properly prepared, and will make a tremendous difference in the quality of the paint job. We understand how important preparation is, and follow the proper procedures to insure you receive the best quality job possible.
Experience and product knowledge: The choices today are more complicated than just oil or latex. A professional understands what works best for your home, and what to use in different applications and living environments.
Protection, cleanup and disposal: Hiring a professional contractor means you won't have to worry about paint spots on your new leather sofa, or hardwood floors. A professional will protect your house while they work, and cleanup and dispose of their mess when they leave.
Products and equipment: A professional will use only premium painting products that are unsurpassed in their quality and durability. They also have all of the tools needed for completing the job efficiently. Even a simple project may require brushes, rollers, ladders of all sizes, scaffolding, paint sprayers, extension polls, and many more items. It is more cost effective to use a skilled professional that has access to these tools than to purchase all of them yourself for one, albeit large, project.
Paint can be very expensive, so it is well worth it to use a professional that can get the best quality paint for the best price. Most importantly, a licensed professional will be able to guarantee their work and protect your home with proper insurance.
The premier choice in Albemarle, Augusta, and Nelson Counties for your residential or commercial exterior painting project is Hatter and Sons, Incorporated. For the best in all types of renovations, residential and commercial projects and service, call Philip @ (540) 569-6351 today for a consultation.